In a society where neurological and psychological health concerns are prevalent, medical professionals are striving for more effective strategies to treat them. Preclinical evidence[1] that the use of cannabidiol suggests to be effective in reducing anxiety in relevant disorders like PTSD, GAD, PD, and SAD. Moreover, it seems this substance has a variety of impacts on a person's nervous system, and is a potential alternative treatment for these conditions. Despite the restrictions on the use of this medicine, numerous studies have been conducted on its medical potential. That leads to one central question how long does CBD last, and is it enough to serve as a viable treatment for psychological disorders?
How Long Does CBD Stay In Your System?
In general, the effects of CBD can last between two to six hours. And CBD can stay in your system for up to two weeks.
How Long Does CBD Stay In Your System?
CBD can stay in your system for up to two weeks.
Of course, the number varies since several other physiological and health-related factors can affect how long CBD effects last in the body.
Body Weight
According to one study[2] on the pharmacokinetics of CBD in the body, the drug easily sticks to fatty tissue and accumulates from there. This allows the effects to be gradually released over time. However, the muscle can weigh more than fat of the same amount, so this is not a definite causation between weight and CBD's effects.
Lifestyle
The main lifestyle factor that can affect the effects of CBD is diet, especially if you eat plenty of foods high in fat. Fatty foods increase the absorption of CBD; in another study, researchers have discovered that taking CBD with these kinds of foods can increase the amount of CBD in the body fourfold. 
General Information About Effects Of CBD
How Long Before CBD Kicks In?
It depends on the type of CBD being used, with some forms taking around 15 minutes and others taking around an hour or so to kick in.
How Long Does CBD Effect Last In Your Body?
In general, the effects of CBD can last between two to six hours.
Does CBD Appear On Drug Tests?
According to a study[3] that occurred in 2016, CBD levels are detectable in urine drug tests after two hours of ingestion, with peak urinary levels occurring after three hours of dosage. However, they were then no longer detectable in retests that took place 24 hours later.
How Long Does CBD Last On The Shelf?
CBD generally has a shelf life of between 14 months and two years, depending on how it is stored.
Its shelf life can be extended by ensuring it does not come into contact with direct sunlight or excessive heat.
How Much CBD Should You Take?
While there is no established standard regarding CBD dosage, starting with the lowest dose possible is always best to feel any of its therapeutic effects.
What Is CBD?
Cannabidiol[4] (CBD) is a drug derived from Cannabis sativa. Delta-9 tetrahydrocannabinol (THC) and cannabidiol are two of the most well-known compounds. Only one CBD product has been approved by the FDA for certain medical uses, and it is currently against the law to sell CBD by adding it to food or calling it a dietary supplement.
Although it is often used as an illicit recreational substance in Western culture, CBD possesses various therapeutic properties that can treat various health conditions. In recent years, its considerable potential as a treatment primarily for anxiety disorders and a range of other psychiatric disorders has been tested by experts.
An observational Canadian study[5] has shown that CBD-rich treatments help patients with moderate to severe pain, anxiety, and depression symptoms as well as their overall health. However, there was no effect seen on patients with mild symptoms.
Stress And Anxiety Relief
In this study, CBD usage led to a significant improvement for patients with moderate to severe stress and anxiety symptoms but not for those who only exhibited mild symptoms. The results of such research show that CBD can potentially reduce the long-term adverse effects of stress.
Pain Relief
In that same study, patients with moderate to severe pain experienced significant improvement upon using it. However, the same could not be said for those with mild discomfort, but this is likely due to them having a smaller margin for improvement.
Antidepressant
Again, the drug's antidepressant effects work best for patients with moderate to severe symptoms of depression. Unlike the other two effects where the symptoms of mild symptoms were increased, patients with mild depression symptoms experienced barely any change in symptoms.
What Are Some Of The Ailments That CBD Helps Treat?
It can help treat symptoms of various mental health conditions, including –but not limited to– generalized anxiety disorder, obsessive-compulsive disorder, panic disorder, post-traumatic stress disorder, and social anxiety disorder.
Pain And Anxiety Management
As proven in the studies described above, CBD oils can work to manage moderate to severe symptoms of both pain and anxiety. There appears to be a connection between CBD's effects on pain relief and anxiety relief, as the reduced anxiety likely contributes to improving pain perception; this may explain why both effects work better the more severe the symptoms are.
Alzheimer's Disease
Other studies have shown that there are therapeutic benefits to consuming CBD to treat Alzheimer's Disease[6] (AD). While more research needs to be conducted to better understand its long-term effects, as proven in this study, many of its properties suggest that it can treat various effects of AD.
How Does This Healing Process Work?
When ingested, It has a complex interaction with the body's endocannabinoid system (eCBS).
The endocannabinoid system[7] consists of system receptors labeled CB1 and CB2, which have unique effects depending on how they are interacted with. The THC – the main active ingredient in CBD– activates (but does not necessarily bind to) these receptors and inhibits FAAH, which reduces the breakdown of endocannabinoids in the body. This leads to effects that can be felt throughout the body's various systems, including in the nervous system, that affects multiple related disorders.
The Type Of CBD Products Matter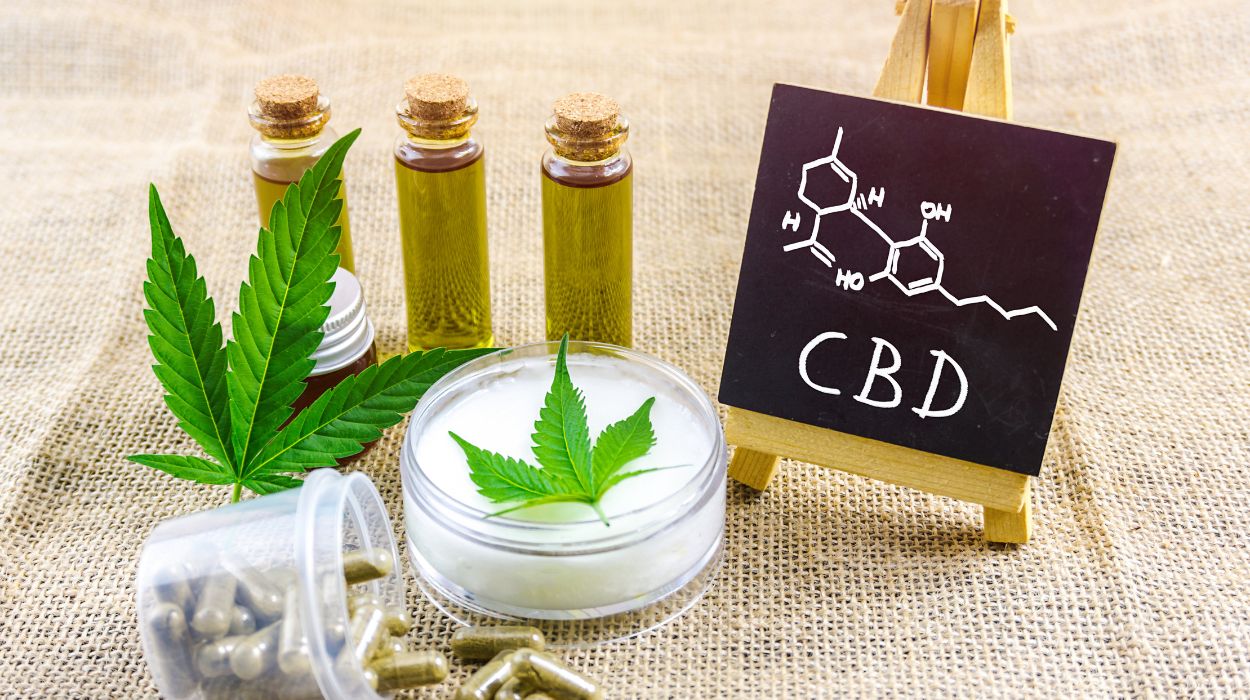 It comes in various forms, with each one suited for a certain method of usage. For example, CBD oil or topical products reduce inflammation and relieve muscle/joint pain. On the other hand, tinctures allow the drug to enter the bloodstream directly.
Regardless of how it is applied, the following CBD products also vary in how long it takes for the effects to kick in: the effects of vaping CBD can be felt within seconds, while effects from CBD edibles can take longer to kick in.
CBD Tinctures
To consume CBD tinctures, simply fill the included dropper to your desired dosage and hold it under your tongue. This allows it to be directly absorbed through the blood vessels underneath your tongue.
CBD Boosters
Boosters are best suited for those who prefer vaping CBD. Because they are not designed to be used alone, they must be diluted in some form of an e-liquid or neutral base before being vaporized.
How Long CBD Lasts In Booster Form?
CBD boosters usually last between two to four hours when vaporized.
CBD Capsules
It is sometimes mixed into certain products to maximize its therapeutic effects and how much it affects your body. These are usually taken orally, similar to other types of capsule medications.
CBD Topicals
Topical products with CBD, such as lotions and creams, are used primarily to relieve muscle and joint pain. They are very easy to use; simply apply them to the skin like you would any other topical product.
CBD Edibles
That product is sometimes integrated into certain types of edibles, with the most popular form being CBD gummies. Similar to gummy vitamin supplements, these edibles are designed to give you the drug effects in a way that tastes enjoyable.
CBD Oil
These hemp-derived CBD products are very similar to their tincture counterparts, being a liquid form that contains hemp extract mixed in with other ingredients. The only difference aside from product composition is that you directly apply oils under your tongue as opposed to using a dropper.
Conclusion
Legal considerations aside, it is still possible to use broad-spectrum cannabidiol to treat various neurological or psychiatric conditions. However, with so many questions about its safety and efficacy still left unanswered, more research is needed to thoroughly answer all of these remaining questions that both medical experts and patients might have about CBD. In the meantime, patients should take great caution when consuming CBD products for health reasons, as it still has the potential to help treat their symptoms.
Frequently Asked Questions
Does taking CBD have any potential adverse effects?
According to the Food and Drug Administration, taking CBD can cause changes in alertness or energy, gastrointestinal distress (i.e., diarrhea, decreased appetite), and irritability/agitation. Higher doses of CBD can also lead to liver injury; CBD competes with liver enzymes that break down the drug. It can also interact with any other medications you may be taking, such as blood thinners.
Is it legal to buy/use CBD-derived products?
As of now, the only CBD-derived product approved for medical use by the FDA is Epidiolex, a drug used to treat certain disorders like epilepsy. While there are a few exceptions, it is otherwise currently illegal to sell CBD in any other form, including as a dietary supplement.
What is the difference between full-spectrum and broad-spectrum CBD products?
Full-spectrum CBD products utilize CBD alongside all other extracts of Cannabis sativa, including flavonoids and essential oils. Broad-spectrum CBD is very similar, with the only difference being that it contains none of the THC found in full-spectrum products.
+ 7 Sources
EHproject has strict sourcing guidelines and relies on peer-reviewed studies, academic research institutions, and medical associations. We work mostly with peer-reviewed studies to ensure accurate information. We avoid using tertiary references. You can learn more about how we ensure our content is accurate and current by reading our editorial policy.
Blessing, E., Steenkamp, M.M., Manzanares, J. and Marmar, C.R. (2015). Cannabidiol as a Potential Treatment for Anxiety Disorders. Neurotherapeutics, [online] 12(4), pp.825–836. doi:https://doi.org/10.1007/s13311-015-0387-1.
Millar, S.A., Stone, N.L., Yates, A. and O'Sullivan, S.E. (2018). A Systematic Review on the Pharmacokinetics of Cannabidiol in Humans. Frontiers in Pharmacology, [online] 9. doi:https://doi.org/10.3389/fphar.2018.01365
Wertlake, P.T. and Henson, M.D. (2016). A urinary test procedure for identification of cannabidiol in patients undergoing medical therapy with marijuana. Journal of Pain Research, [online] pp.81–81. doi:https://doi.org/10.2147/jpr.s96856.
Office (2023). What to Know About Products Containing Cannabis and CBD. [online] U.S. Food and Drug Administration. Available at: https://www.fda.gov/consumers/consumer-updates/what-you-need-know-and-what-were-working-find-out-about-products-containing-cannabis-or-cannabis.
Rapin, L., Rihab Gamaoun, Cynthia El Hage, Maria Fernanda Arboleda and Prosk, E. (2021). Cannabidiol use and effectiveness: real-world evidence from a Canadian medical cannabis clinic. Journal of cannabis research, [online] 3(1). doi:https://doi.org/10.1186/s42238-021-00078-w.
Watt, G. and Karl, T. (2017). In vivo Evidence for Therapeutic Properties of Cannabidiol (CBD) for Alzheimer's Disease. Frontiers in Pharmacology, [online] 8. doi:https://doi.org/10.3389/fphar.2017.00020.
Jennifer Clay Cather and J Christian Cather (2020). Cannabidiol primer for healthcare professionals. Baylor University Medical Center Proceedings, [online] 33(3), pp.376–379. doi:https://doi.org/10.1080/08998280.2020.1775437.