Many people feel insecure due to hair loss and bald spots, which can be brought on by several things, including heredity, aging, hormonal changes, and medical disorders. While some people may accept their baldness, others might choose to fill their bald areas with hair for cosmetic reasons or to boost their confidence. Fortunately, there are many natural and medical methods to promote hair growth on bald patches.
This article will explore the reasons behind bald spots and provide suggestions and natural remedies for regrowing hair quickly on those spots. In addition to the advantages of scalp massage and hair growth supplements, we will discuss the significance of a good diet and hair care regimen.
Whether you're a man or a woman, experiencing bald spots can be frustrating, but with the right information and approach, regaining a full head of hair can be within reach.
How Long Does Regrowing Hair on a Bald Spot Take?
Natural hair regrowth is not a one-size-fits-all solution; the time it takes to view results from natural hair regrowth can vary and depends on several factors. These factors include individual differences and the underlying cause of the bald spot. While some people may start seeing significant hair regrowth from natural remedies within a few weeks, some may require several months of regular use before noticing any changes.
How To Regrow Hair On Bald Spot Fast
If you're looking for certain results, a few treatments can help you in regrowing hair on bald spots. One of the most popular options is hair transplantation surgery, which involves transplanting healthy hair follicles from one scalp area to the bald spot. It can be an efficient solution, but it can also be expensive and time-consuming, requiring multiple sessions.
Individuals who have bald spots can also consider scalp micropigmentation. This method involves using small tattooed dots on the scalp to make it look as if hair follicles are present. This option can provide a long-lasting and low-maintenance solution to hair loss.
Though it does not result in hair regrowth, it can provide the impression of a more voluminous head of hair. It's a safe and effective option for those wishing to conceal their bald spots, and the results can last several years.
Causes Of Bald Spot
The causes of bald spots range from underlying medical issues to hereditary predispositions. Androgenetic alopecia is the leading cause of bald spots, also called male or female pattern baldness. However, it's necessary to note that other underlying medical conditions or factors may contribute to hair loss. Hence, it's necessary to determine the underlying cause by consulting a healthcare professional. Almost 80% of men and 50% of women are susceptible to this inherited hair loss. Its defining features are a receding hairline and thinning hair on the head's crown.
Alopecia areata is a medical condition known for patchy loss of hair that can occur on any body part, especially your scalp. Apart from this condition, other medical concerns like thyroid disorders, scalp infections, and nutritional deficiencies can also lead to bald spots. Furthermore, stress can also contribute to hair loss and baldness.
Bald Spot Regrowth Tips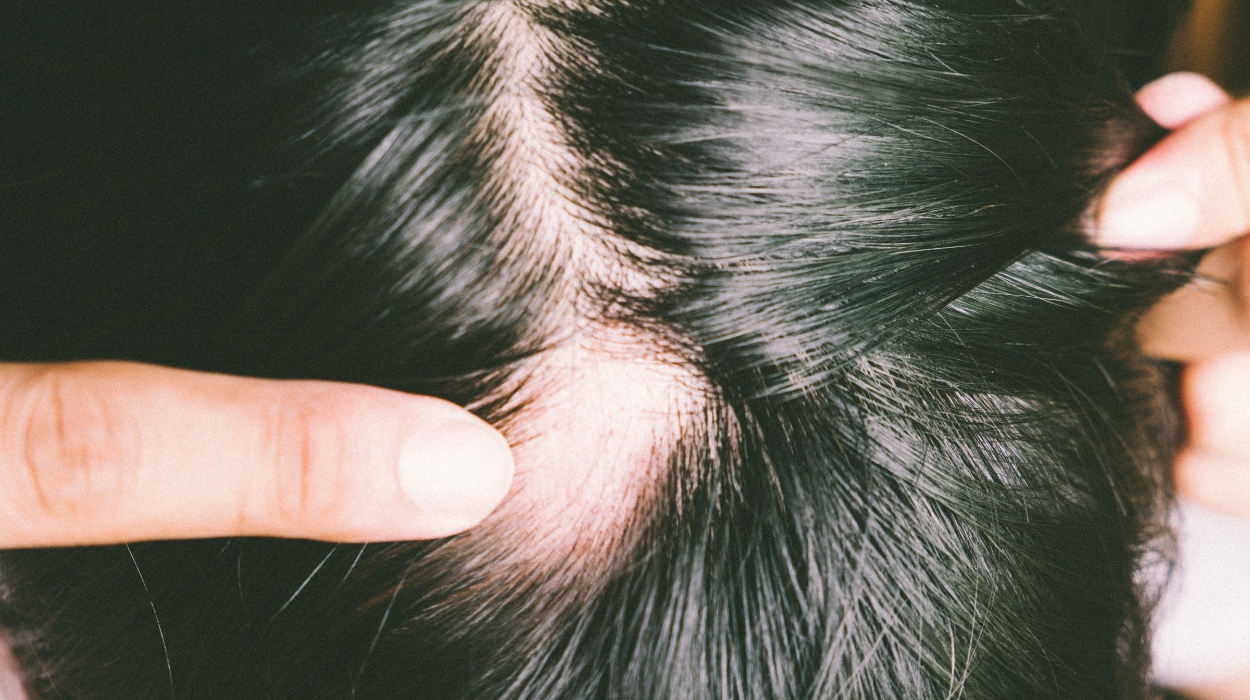 You can do various things to encourage hair growth if you are looking for natural ways to regrow hair in bald places. Some of these are mentioned below.
Hair Care Routine
Maintaining a healthy hair care routine that includes frequent washing, conditioning, and moisturizing is also crucial. Harsh chemicals or styling treatments that harm your hair and scalp should also be avoided.
Scalp Massage
Regularly massaging the scalp with circular motions using fingertips for a few minutes daily can help in hair growth by increasing blood flow to the hair follicles.
Hair Growth Supplements
Various supplements for hair growth can encourage hair growth and stop future hair loss. These supplements' vitamins, minerals, and herbs are frequently known to help healthy hair development.
Dietary Changes
Apart from supplements and topical treatments, modifying your diet can also contribute to hair regrowth on bald spots. Besides supplements and topical treatments, a balanced diet rich in essential vitamins and minerals can aid in regrowing hair on bald spots by nourishing hair follicles and promoting healthy growth. Some key nutrients to focus on include:
Protein: Hair comprises keratin, so consuming enough protein in your diet is important. Good protein sources include meat, fish, eggs, nuts, and legumes.
Iron: A deficiency of iron is a frequent reason for hair loss. Therefore, you must ensure you consume sufficient amounts of iron daily. Iron-rich foods like poultry, red meat, seafood, beans, and leafy greens can help meet your iron requirements.
Vitamin C is vital for healthy hair growth and collagen production. Citrus fruits, berries, kiwis, and peppers are excellent sources of Vitamin C.
Omega-3 fatty acids are vital in maintaining the scalp and ensuring healthy hair growth. Therefore, incorporating omega-3-rich foods such as fatty fish, chia seeds, or flax seeds in your diet can help in maintaining healthy levels of these fatty acids.
Medicinal For Bald Spots
If natural remedies don't work, several medical treatments can also help regrow hair on bald spots. Minoxidil is a frequently used treatment for hair loss, and it is typically administered as a solution applied directly to the scalp topically. It's available over the counter and effectively regrows hair on bald spots.
Finasteride, an oral prescription drug, is another option. It prevents the hormone DHT, which is linked to male pattern baldness, from being produced. Before using minoxidil or any other hair loss treatment, it is necessary to seek advice from a healthcare expert to discuss the potential pros and cons. Minoxidil, for instance, may have some adverse effects that should be carefully evaluated before initiating treatment.
Some natural remedies which can aid you with hair regrowth include Biotin and Rosemary. Biotin is vital for strong and healthy hair, skin, and nails. Usually, it is taken as a supplement to encourage thicker, longer hair. While rosemary helps with hair growth. Rosemary can also be infused into a carrier oil for topical application or added to hair care products.
Female & Male Pattern Baldness
Up to 70% of males may experience male pattern baldness (MPB), known as androgenetic alopecia, a genetic disorder. Patterned hair loss is characterized by specific patterning in hair loss that begins at the hairline and gradually moves back towards the crown.
Dihydrotestosterone (DHT), a hormone that can decrease hair follicles and reduce the hair development cycle, is responsible for this hair loss. MPB can begin as early as adolescence and often worsens over time.
While male pattern baldness (MPB) is more common, there is also a type of hair loss that specifically affects women: female pattern baldness (FPB). FPB, also known as androgenetic alopecia, typically does not lead to total baldness, unlike MPB.
Women with FPB frequently notice a broadening of their scalp's portion line or thinning at the crown. Like MPB, FPB is brought on by DHT, but in addition to these hormonal changes, women may experience hair loss after menopause or pregnancy. In addition, women who experience female pattern baldness (FPB) may experience thinner head hair and coarser facial hair.
Medications like finasteride or minoxidil can help slow down or reverse hair loss and treat MPB and FPB, for those seeking a more permanent solution, hair transplant surgery is another option to consider for addressing hair loss.
Before receiving therapy, screening out any other underlying medical disorders or lifestyle variables is crucial because all hair loss is not brought on by MPB or FPB.
Conclusion
In conclusion, it is possible to regrow hair on bald spots, but this often involves a combination of home remedies and prescription medications.
Maintaining a healthy diet, a good hair care routine, and a scalp massage can help stimulate hair growth. In contrast, hair growth supplements and medicinal treatments like minoxidil and finasteride can provide more significant results.
Frequently Asked Questions
What are some side effects of using minoxidil?
There can be side effects such as scalp irritation, itching, and dryness, but these are infrequent. In addition, although hair loss treatments such as minoxidil can be effective, they may also cause rare but serious side effects, including chest pain or dizziness. Therefore, following the instructions carefully and monitoring for adverse reactions is crucial.
Is hair transplantation surgery safe?
Hair transplantation surgery is generally safe, but some risks are present as with any type of surgery. These can include bleeding, infection, and scarring. Therefore, choosing a reputable and experienced surgeon and discussing the risks and benefits beforehand is important.
Can stress cause bald spots?
Yes, stress can contribute to hair loss and bald spots. For example, Telogen effluvium is a special condition triggered by stress and causes hair to fall out in clumps.
Are there any natural remedies to regrow hair on bald spots?
Natural remedies like a well-balanced diet, regular scalp massage, and essential oils, including peppermint and rosemary, can aid in promoting the growth of hair. However, it is worth mentioning that while natural remedies can be effective for some individuals, they may only work for some.
Is scalp micro pigmentation a permanent solution?
Scalp micropigmentation is a semi-permanent solution lasting five years with proper care and maintenance.
Can hair loss be reversed?
While some forms of hair loss are permanent, such as scarring alopecia, many types can be reversed or slowed down with proper treatment and care.
Can women experience male pattern baldness?
Yes, women can experience male pattern baldness, although it's less common than in men. Hormonal imbalances and genetics usually cause it.
+ 4 Sources
EHproject has strict sourcing guidelines and relies on peer-reviewed studies, academic research institutions, and medical associations. We work mostly with peer-reviewed studies to ensure accurate information. We avoid using tertiary references. You can learn more about how we ensure our content is accurate and current by reading our editorial policy.
NIAMS. Alopecia Areata. National Institute of Arthritis and Musculoskeletal and Skin Diseases. Published 2019. Accessed June 7, 2023. https://www.niams.nih.gov/health-topics/alopecia-areata
Services D of H & H. Patterned hair loss. www.betterhealth.vic.gov.au. Accessed June 7, 2023. https://www.betterhealth.vic.gov.au/health/conditionsandtreatments/patterned-hair-loss
Minoxidil Topical: MedlinePlus Drug Information. medlineplus.gov. Accessed June 7, 2023. https://medlineplus.gov/druginfo/meds/a689003.html
Hagenaars SP, Hill WD, Harris SE, et al. Genetic prediction of male pattern baldness. Noethen MM, ed. PLOS Genetics. 2017;13(2):e1006594. doi:https://doi.org/10.1371/journal.pgen.1006594