Vitauthority Multi Collagen Burn is a dietary supplement with active ingredients that reduce visible cellulite, amongst other benefits you will soon see.
Does this supplement give all its claims? This Vitauthority Collagen Burn review will reveal important details about it, including how it works to provide health benefits.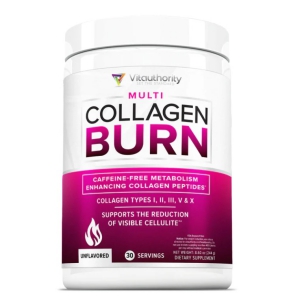 Vitauthority Multi Collagen Burn
Contains five types of collagen
Contains Sensoril Ashwagandha extract
Contains SOD B Dimpless
Caffeine and gluten-free
Zero carbs or sugars
Zero artificial flavors
In capsule and powder form
What Is Vitauthority Collagen Burn?
Vitauthority Collage Burn is a unique dietary supplement with tested and trusted healthful ingredients. This collagen supplement offers health benefits such as reduced cellulite, weight loss, bone strength, and vibrant skin. It is manufactured for individuals who want to slow down aging and healthily lose weight.
How Does Collagen Burn Work?
Vitauthority Collagen Burn helps with collagen supplementation in the body. Collagen is the major structural protein in the skin, bone, cartilage, and muscles. It is made of amino acids proline, glycine, and hydroxyproline and is produced by cells called fibroblasts. Up to 28 types of collagen[1] have been discovered, but the most common types used in supplements are I, II, III, V, and X. Each type offers different benefits.
Type I supports bones, muscles, skin, and cartilage. Type II promotes joint health. With Type III supports muscles, gut health, and blood vessels. Type V aids muscles, bones, the liver, and the lungs. Meanwhile, type X supports bones, joints, and cartilage.
In addition, collagen provides skin elasticity,[2] firmness, and moisture. It gives structure and strength to the bones, muscles, and cartilage. It also repairs body tissues, replaces dead skin cells, and increases muscle bulk.
As you grow older, usually from age 30, natural collagen production begins to decline due to fibroblast aging.[3] The skin elasticity reduces, becoming less firm and thinner, making wrinkles form. Other signs of aging, such as joint pain, hair thinning, and loss of skin moisture, may also set in.
However, taking supplements like Vitauthority Collagen Burn, which contains five types of collagen, helps your body make up for depleted collagen, provides strength to the body's tissues, and slows down aging. In addition to collagen, Vitauthority Collagen Burn also contains weight loss-enhancing ingredients and many others that this piece will uncover in the coming section.
Vitauthority Collagen Burn Reviews
Vitauthority Collagen Burn is one of the best collagen supplements on the market. Its ingredients are proven to boost the all-around skin, bone, hair, and nail appearance.
Has types I, II, III, V, and X collagen
It is available in both capsule and powder form
Enhances metabolism for weight loss
Ideal for skin, hair, nail, and bone health
Free from caffeine and gluten
Their products are lab-verified
Free from GMOs, pesticides, heavy metals, or contaminants
60 days money back guarantee
V.I.P. membership is available
Contains two allergens — fish and egg
It is expensive
American health and nutrition brand Vitauthority was founded in 2018. Since then, it has produced different supplements with health benefits. You can find a Vitauthority review from users who seem to have enjoyed their products on their website. Their multi-collagen burn is one of their products notable for its collagen supplementation.
This supplement is a blend of five types of collagen — types I, II, III, V, and X. The collagen types are sourced from grass-fed beef, farm-raised chicken, wild-caught fish, and eggshell membranes.
As mentioned earlier, it comprises ingredients such as Ashwagandha, olive leaves, and grains of paradise, all of which provide robust health benefits for the skin, hair, nails, and bones. It is free of caffeine, gluten, carbs, and artificial flavors.
Each bottle of the unflavoured Vitauthority collagen burn weighs 244 grams and contains 30 servings. A single serving size or one scoop is 8.12 grams.
A one-time purchase costs $59.99, but with a subscription, you can enjoy 25% off and get a bottle at $44.99. The company offers free shipping and delivers orders within two to five days of purchase. You can get a 60-day money-back guarantee even if you send back an empty container.
Vitauthority Collagen Burn Ingredients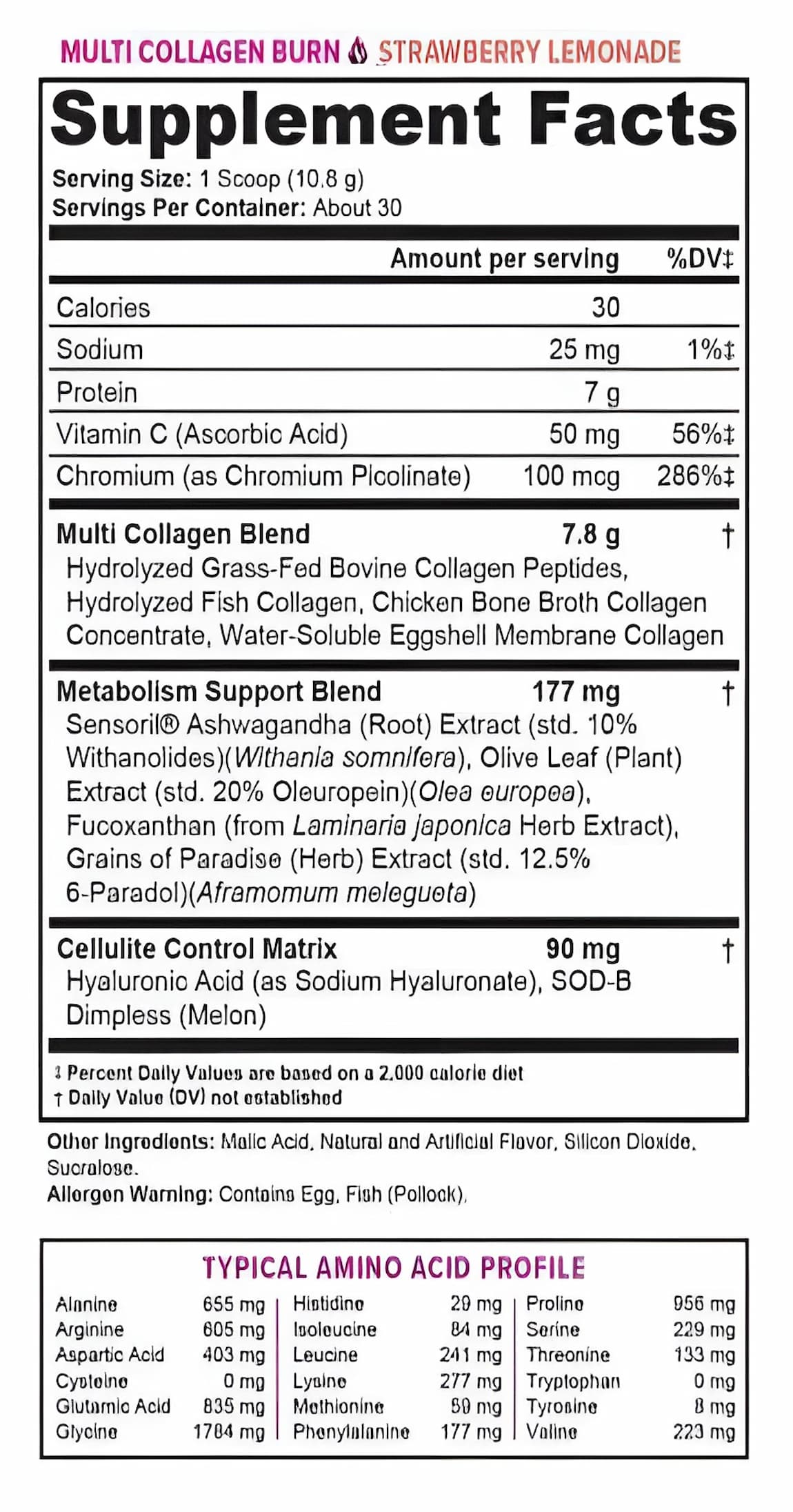 Multi Collagen Blend
The Vitauthority Collagen Burn contains 7.8 grams of the multi-collagen blend. This blend consists of hydrolyzed grass-fed bovine collagen peptides, hydrolyzed fish collagen, chicken bone broth collagen, and water-soluble eggshell membrane collagen. Studies[4] show that hydrolyzed collagen peptides (collagen broken down by water) cause notable improvement in skin hydration, wrinkling, elasticity, and firmness.
Metabolism Support Blend
This multi-collagen burn has 177 grams of metabolism support blend. The metabolism support blend contains extracts of ashwagandha, olive leaf, and grains of paradise.
Ashwagandha[5] possesses anti-inflammatory, anti-stress, and anti-cancer properties that protect the skin. Olive leaves[6] and grains of paradise also have anti-inflammatory, antioxidant, and weight-loss properties. They rejuvenate the skin and enhance metabolism for weight loss through a process called thermogenesis.
Cellulite Control Matrix
The 90-gram specifically targets cellulite control matrix is a mixture of collagen plus hyaluronic acid and superoxide dismutase (SOD B Dimpless). Hyaluronic acid[7] improves the skin's moisture, reduces dryness, and aids bone health.
A clinical study reveals that the SOD B Dimpless® component stimulates the visible reduction of cellulite on thighs after 28 days of oral supplementation. It works by stimulating antioxidant action, which hinders fibrosis and breaks down fat cells.
In addition to these ingredients, each serving of Vitauthority Collagen Burn supplies the following:
30 calories
7 grams of protein
50 grams of vitamin C (Ascorbic acid)
100 micrograms of chromium
25 grams of sodium
Vitauthority Collagen Burn Reviews: What Do Real Users Say?
Are you unsure about the effectiveness of this supplement? Are you looking for a Vitauthority multi-collagen burn review from real users? Well, check out the reviews below from people who have tried and benefited from it!
"I like the Unflavored Collagen the best! I put it in my coffee, it dissolves very quickly. My hair & nails are in better shape."

Jennifer F.
"I just want to give a shout-out to this awesome company!!! The supplements are fantastic and definitely can see and feel a difference since taking them. I've been using the collagen and the melt for a couple of years and recently had a tiny issue, and customer service went above and beyond to make it right! I highly recommend Vitauthority."

Brittany S.
"I use this every morning in my coffee. I have noticed a huge difference with my weight and has helped me rid my cellulite that I was not able to do with just exercise."

Jennifer M.
"I have been whipping it in with my protein shakes and it doesn't change the taste! Using several products and seeing results….my skin looks smoother, my joints don't ache and I am shedding a few pounds. All good!"

Anita V
Alternatives To Vitauthority Collagen Burn
SkinnyFit Super Youth
Diary, sugar, and gluten-free
Contains vitamin C, hyaluronic acid, and apple cider vinegar
Promotes, skin, hair, and bone health
Contains two allergens i.e., fish and egg
Quite expensive
HUM Nutrition Collagen
Vegan-friendly
Tested by a third-party lab
Improves skin, hair, and digestive health
Quite expensive
Contains a lower dose of collagen compared to the powdered form
Care/Of Collagen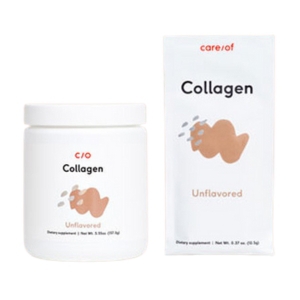 Improves skin and nail health
Third-party tested
Diary and gluten-free
Requires subscription before purchase
Health Benefits Of Vitauthority Collagen Burn
Vitauthority Collagen Burn offers the following health benefits to its users.
It enhances metabolism to stimulate weight loss
It increases skin moisture, elasticity, and firmness and smoothes wrinkles
It supports hair health by strengthening the roots and reducing breakage
It promotes the growth of healthier, stronger, and longer nails
It provides strength, flexibility, and structure to tendons, joints, and ligaments
It improves bone strength
Collagen Burn Side Effects
Users of this product may experience side effects depending on how they use it or their body's reaction to some of its compounds. Taking the supplement in more doses than required may cause one to experience some side effects.
Some of the ingredients may cause side effects. So, it's crucial to go through them to check if it has compounds you react to. This supplement contains fish and eggs; therefore, people with allergies to these products should avoid them.
Other ingredients present that can cause side effects include the following:
Ashwagandha[8] taking large doses (more than 1,000 mg daily) can cause abdominal discomfort, diarrhea, vomiting, and drowsiness.
Olive leaf[9] extract can cause headaches, abdominal pain, diarrhea, and fatigue.
Oral intake of hyaluronic acid[10] can cause stomach upset and loss of appetite.
Chromium can cause irritability, headache, and sleep troubles.
Who Is Vitauthority Collagen Burn Best For?
Vitauthority Collagen Burn is best for people who want to boost their skin, hair, and bone health. Individuals who want to lose weight will find this supplement helpful. It is also best for older people since it is an excellent collagen supplement.
Should You Try It?
If improving your skin and hair appearance and shedding weight is top of your to-do list, then you should try Vitauthoriy Collagen Burn.
However, you should not take this multi-collagen burn if you are pregnant or breastfeeding. Also, seek the advice of your doctor if you are unsure about taking this supplement.
Dosage
The manufacturers recommend that you use it only as a dietary supplement.
Mix one scoop of Vitauthority collagen Burns with six to eight ounces of any flavored beverage or recipe of your choice once or twice a day. You can consume two or more servings daily for better results.
Feel free to add it to your coffee, tea, smoothies, juices, shakes, yogurt, or oatmeal. However, for maximum enjoyment, you should not mix it with just regular water.
Final Thought
Vitauthority's Multi Collagen Burn is ideal for people looking for a healthy way to reduce visible cellulite and maintain good skin and strong connective tissues. Though this supplement is pretty expensive, its natural and healthful ingredients make up for it.
This multi-collagen burn promises users hydrated and wrinkle-free skin, weight loss, and bone strength. Numerous studies show that these benefits are not far-fetched with the ingredients they contain.
We advise you to seek the opinion of your doctor or dietician before trying out this multi-collagen burn.
Frequently Asked Questions
What time is ideal for taking the supplement?
The manufacturers recommend taking one serving on an empty stomach if you don't have any digestive disturbance. You can also take it with food.
How soon will I see the results?
For joint pain, you can start feeling relief within two to three weeks. Results for skin, hair, cellulite, and weight loss are usually seen after 60 days of consistently using the supplement.
Is there any difference between the powder and the capsule?
The multi-collagen burn capsules (one gram) have lower doses of collagen per serving than the collagen powder (7.8 grams) due to restrained space within the capsules. Nevertheless, the two contain the same dose of weight-loss blends. 

How does the multi-collagen burn cause weight loss?
The metabolism support in the Multi Collagen Burn powder contains the extracts of ashwagandha, olive leaf, and grains of paradise. These extracts have anti-obesity properties that increase body metabolism for weight loss.
+ 10 Sources
EHproject has strict sourcing guidelines and relies on peer-reviewed studies, academic research institutions, and medical associations. We work mostly with peer-reviewed studies to ensure accurate information. We avoid using tertiary references. You can learn more about how we ensure our content is accurate and current by reading our editorial policy.
Wu, M., Cronin, K. and Crane, J.S. (2022). Biochemistry, Collagen Synthesis. [online] Nih.gov. Available at: https://www.ncbi.nlm.nih.gov/books/NBK507709/ [Accessed 13 Feb. 2023].
Genovese, L., Corbo, A. and Sibilla, S. (2017). An Insight into the Changes in Skin Texture and Properties following Dietary Intervention with a Nutricosmeceutical Containing a Blend of Collagen Bioactive Peptides and Antioxidants. Skin Pharmacology and Physiology, [online] 30(3), pp.146–158. doi:https://doi.org/10.1159/000464470.
Varani, J., Dame, M.K., Rittie, L., Fligiel, S.E.G., Kang, S., Fisher, G.J. and Voorhees, J.J. (2006). Decreased Collagen Production in Chronologically Aged Skin. The American Journal of Pathology, [online] 168(6), pp.1861–1868. doi:https://doi.org/10.2353/ajpath.2006.051302.
León-López, A., Morales-Peñaloza, A., Martínez-Juárez, V.M., Vargas-Torres, A., Zeugolis, D.I. and Aguirre-Álvarez, G. (2019). Hydrolyzed Collagen—Sources and Applications. Molecules, [online] 24(22), p.4031. doi:https://doi.org/10.3390/molecules24224031.
Singh, N., Bhalla, M., De Jager, P. and Gilca, M. (2011). An Overview on Ashwagandha: A Rasayana (Rejuvenator) of Ayurveda. African Journal of Traditional, Complementary and Alternative Medicines, [online] 8(5S). doi:https://doi.org/10.4314/ajtcam.v8i5s.9.
Barbaro, B., Toietta, G., Maggio, R., Arciello, M., Tarocchi, M., Galli, A. and Balsano, C. (2014). Effects of the Olive-Derived Polyphenol Oleuropein on Human Health. International Journal of Molecular Sciences, [online] 15(10), pp.18508–18524. doi:https://doi.org/10.3390/ijms151018508.
Kawada, C., Yoshida, T., Yoshida, H., Matsuoka, R., Sakamoto, W., Odanaka, W., Sato, T., Yamasaki, T., Kanemitsu, T., Masuda, Y. and Urushibata, O. (2014). Ingested hyaluronan moisturizes dry skin. Nutrition Journal, [online] 13(1). doi:https://doi.org/10.1186/1475-2891-13-70.
Tandon, N. and Yadav, S.S. (2020). Safety and clinical effectiveness of Withania Somnifera (Linn.) Dunal root in human ailments. Journal of Ethnopharmacology, [online] 255, p.112768. doi:https://doi.org/10.1016/j.jep.2020.112768.
Sabry, O. (2014). Review: Beneficial Health Effects of Olive Leaves Extracts. [online] ResearchGate. Available at: https://www.researchgate.net/publication/305755353_Review_Beneficial_Health_Effects_of_Olive_Leaves_Extracts.
Tashiro, T., Seino, S., Sato, T., Matsuoka, R., Masuda, Y. and Fukui, N. (2012). Oral Administration of Polymer Hyaluronic Acid Alleviates Symptoms of Knee Osteoarthritis: A Double-Blind, Placebo-Controlled Study over a 12-Month Period. The Scientific World Journal, [online] 2012, pp.1–8. doi:https://doi.org/10.1100/2012/167928.‌