About The Brand
The complex nature of the gut and its significance to our general health is a subject of growing research in the medical community. There are over 30 billion bacteria in your body and 70% of the immune system, and all are located in your gut. So bolstering gut health is crucial in general, and its part in sustaining our immune health is incredibly important.
Ritual Synbiotic+ falls into that class of gut health supplements, one of the best in today's competitive market. It is a three-in-one capsule integrating prebiotics, probiotics, and postbiotics, that offers a variety of benefits. The benefits include digestive support, improved gut barrier health, and immune support.
Ritual Synbiotic+
Three-in-one potent formula
100% traceable ingredients
Third-party tested formula
Allergen-free, non-GMO, vegan-friendly
No need for refrigeration
It may be somewhat expensive for some consumers – each 30-day supply is $50
It's still relatively a new product, so few reviews to reference yet
15% Off With Code: START15
What Is Ritual Synbiotic+?
The Ritual Synbiotic+ is a gut health polymath. The key components – prebiotics, probiotics, and postbiotics – are contained to help with gut, immune, and digestive support.
A synbiotic is a blend of probiotics, which are healthy gut bacteria, and prebiotics, which are non-digestible fibers that support the growth of the bacteria. Synbiotics help in balancing your gut bacteria, thereby helping to improve your immune system, metabolism, and gut health.
Why Trust Us?
Ritual is committed to producing traceable, pure, straightforward, and science-backed supplements that enhance health and well-being. There are no unneeded ingredients and every single nutrient is used in its best, most effective form. Plus, the ingredients being made traceable means you know just what you're placing into your body.
How Does It Work?
All three major ingredients[1] function together – the prebiotic, probiotic, and postbiotic. The probiotics, which include BB-12 and LGG, are a form of "good" bacteria that help boost the positive microbe population taking residence in your gut.
These living microorganisms also help decrease the growth of pathogenic (bad) bacteria, boost healthy digestive production, and prime our immune system to fight off unwanted pests. We see the effects when we get relieved of mild and occasional distress like gas, bloating, and diarrhea.
For probiotics[2] to thrive, they need the proper fuel, which is where prebiotics come in. While we can't digest these nutrients ourselves, prebiotics function as the ideal food for our microbes, keeping things running efficiently as the probiotics do their job. Finally, as the probiotics flourish on the prebiotic fuel, they produce metabolites or postbiotics.
Postbiotics keep the good bacteria in and help to deter leaky gut. They supply fuel for the gut lining, influence your metabolism, prepare the immune system to help defend against infections and help manufacture Butyrate, which is the prominent source of energy for the cells that align the colon (to help the gut barrier function).
Ritual Synbiotic+ Ingredients
Ritual Synbiotic+ contains a mix of probiotics, prebiotics, and postbiotics, all of which are included in just one little capsule.
Prebiotic PreforPro (15mg)
Designed to target undesirable bacteria in the gut which sustains the growth of useful bacteria.
Probiotic Blend (120mg)
LGG Lactobacillus Rhamnosus and BB-12 Bifidobacterium Animalis ssp. Lactis: These are two of the most analyzed probiotic strains in the world. They deliver live microorganisms that contribute to healthy gut microflora.
Postbiotic Corbiome [Tributyrin] (300mg)
The major energy source for the cells that line the colon. They provide fuel for your gut lining and support a healthy gut barrier.
Hypromellose
This is the main raw material used in producing capsules. It's combined with potassium chloride and gellan gum to make the capsule water-sensitive for longer storage periods.
Others are:
Stomach acid-resistant outer vegan capsule
Inner vegan capsule
Coconut medium-chain triglycerides (MCT) oil, silica, cellulose
Ritual Synbiotic+ Review: What Do Real Users Say?
"I've been consuming Ritual Synbiotic+ Probiotic for about three months and the effects have been amazing. Unlike the Ritual Multivitamins, the Synbiotic+ has an pleasing minty taste that lets me take it any time of day. I also get to travel with it for long distances, since it doesn't need to be refrigerated."

Alice
"I placed an order for this product a few weeks back, and I couldn't help but notice how off the label looks. For a moment I thought it had been from China. The label is not suitably applied and has a bunch of air pockets. I don't mean to be petty, but it helps if I can read what you've written on it rather than strain and take something that might put my health at risk."

Irma
"Ritual has been my go-to source for multivitamins and supplements. So when I got to hear about its latest three-in-one gut health supplement, I knew I had to try it out. Based on how I understood it, Ritual Synbiotic+ Probiotic is formulated to target bad bacteria and grow the good bacteria. I tried it out and it did just that and more! Also, not only is it easy to swallow, it has a pleasant peppermint flavor and scent that makes me look forward to taking it every day."

Regina
Alternatives To Ritual Synbiotic+
Seed Daily Synbiotic
​​It alleviates constipation.
It can be consumed on an empty stomach.
The packaging is a handy glass travel vial.
It does not require refrigeration.
A bit expensive
It can induce more bowel movements.
It causes gas or bloating.
Athletic Greens
There are 75 ingredients in it, plus probiotics.
It is dairy-free, gluten-free, egg-free, and nut-free.
Tastes pleasant enough in water or smoothies.
Some AG users report gastrointestinal side effects
It does not contain iron or vitamin D.
Causes nausea, diarrhea, bloating, and other digestive issues.
Gundry Bio Complete 3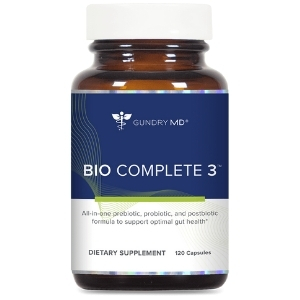 It increases energy levels.
Encourages healthy weight loss.
It is developed by expert physicians.
Research supplies scientific support.
It contains a single bacteria strain.
Relatively pricey.
It lacks a clear and transparent ingredient list.
Benefits Of Ritual Synbiotic+
Synbiotic+ contains probiotics to enhance gut health and reduce digestive symptoms, such as bloating, gas, and diarrhea.
It improves immune function with probiotics and other gut-immune supportive ingredients.
As with many prebiotics, it also gets rid of harmful bacteria and supports the growth of good bacteria, this way, optimizing your gut microbiome.
The postbiotics support the gut lining and enhance gut barrier function for overall gut health.
Where To Buy Ritual Synbiotic+?
You can buy Ritual Synbiotic+ on the Ritual website. There are 30 servings (30 capsules) per bottle of Ritual Synbiotic+, which costs $50 ($1.67/serving).
How To Use Ritual Synbiotic+?
One capsule is meant to be taken once daily with your food, for optimal gut health support. The capsules have a minty flavor, which makes them more pleasant to take.
You should take it in the morning with breakfast or at night with your supper before you go to sleep. There's no refrigeration required for these daily capsules and the bottle is designed with moisture-controlled technology to protect the probiotic strains, so you can rest assured that your capsules are working most efficiently.
Who Is Ritual Synbiotic+ Best For?
Ritual Synbiotic+ is a great option for persons over 18 years looking to improve their gut and immune health. For those who suffer from poor digestion, and occasional gastrointestinal disruptions including gas, bloating, and diarrhea, taking a probiotic supplement like Synbiotic+ might help you experience the relief you desire.
How Do I Know If A Probiotic Supplement Is Working?
There's not always a visual or surefire cue as to whether a supplement is "working," and when you're dealing with your gut, it's not as easy to tell. But these improvements could indicate your microbiome is functioning properly: Less stomach or abdominal discomfort, reduced gas and bloating, more regularity in bowel movements, and less indigestion or feeling "sluggish" post-meal.
Final Thought
Synbiotic+ is a brilliant choice for those who seek clearness, safe, cleanness, and reliable relief and support for their gut and immune system health. Ritual is a brand that's committed to creating integral products, created from traceable sources, and at the height of efficacy, which means that choosing Synbiotic+ is a choice that you can feel assured about.
Ritual Synbiotic+ Probiotic is definitely worth looking into. Its 3-in-1 ingredients and solid dosages are sure to maintain a healthy gut microbiome and offer full digestive support. Also, Ritual's transparency is one of its defining features that keep users from returning over again.
The brand's visible supply chain makes it possible to link the origin––whether the town or city in some cases––both the supplier of each labeled ingredient and the location of the final place of manufacturing.
Frequently Asked Questions
Who should try Ritual Synbiotic+?
Ritual Synbiotic+ is best for anyone 18+ searching to enrich their gut health and/or decrease disturbing digestive symptoms. If you are pregnant, nursing, using medications, or have a medical condition, speak with your doctor or healthcare provider before starting Synbiotic+.
How is it taken?
It is taken with just one capsule per day with or without food.
Will there be an adjustment period?
Yes, when you first begin taking Synbiotic+, you can expect there to be an adjustment period where you might experience minor bloating, gas, or tummy discomfort. These side effects should subside with ongoing and continued use. If your symptoms persist after two weeks, be sure to speak with your healthcare provider.
When will I begin to experience the benefits?
For many, results will be evident within 2-4 weeks of consistent use. For others, they may not notice any significant changes, which doesn't mean that the product is not working.
Does Ritual Synbiotic+ help with bloating?
Yes! Ritual Synbiotic+ Probiotic helps with bloating and a host of other gastrointestinal issues including diarrhea and gas. It offers instant relief and strengthens your immune system to keep you healthy at all times.
What is the cost and where do you buy this supplement?
Ritual Synbitoitc+ Probiotic costs $50 for a 30-day supply of mint-essenced capsules, which can be taken with or without food. You can purchase Synbiotic+ exclusively from Ritual's official website.
+ 2 Sources
EHproject has strict sourcing guidelines and relies on peer-reviewed studies, academic research institutions, and medical associations. We work mostly with peer-reviewed studies to ensure accurate information. We avoid using tertiary references. You can learn more about how we ensure our content is accurate and current by reading our editorial policy.
Pandey, Kavita. R., et al. "Probiotics, Prebiotics and Synbiotics- a Review." Journal of Food Science and Technology, vol. 52, no. 12, 22 July 2015, pp. 7577–7587, www.ncbi.nlm.nih.gov/pmc/articles/PMC4648921/#CR10, 10.1007/s13197-015-1921-1.
National Center for Complementary and Integrative Health. "Probiotics: What You Need to Know." NCCIH, Aug. 2019, www.nccih.nih.gov/health/probiotics-what-you-need-to-know.