Morning Complete is a supplement that includes lots of superfood greens, along with prebiotics and probiotics, for complete morning nutrition. Does it work, though? The company, ActivatedYou, will tell you it works, but can you trust them? You might find yourself scrolling through pages of ActivatedYou Morning Complete reviews online to answer your questions. You will find hundreds and hundreds of conflicting views and experiences with no way to tell which is closest to what your experience would be like! Or, you can just look here- we've compiled all the information you need to know to make the best decision.
Morning Complete
Some ingredients (but not all) have scientific backing
Unique blend
Antioxidants
90-day money-back guarantee
Causes some side effects
Very expensive
10% Off Coupon: HC10ACTYOU
What Is Morning Complete?
Morning Complete is an arrangement of lots of nutrients. It's mostly focused on probiotics for gut health because healthy digestion is the start of everything else. The formula also contains a lot of green superfoods, though, for an extra healthy boost. As the "Complete" in the name suggests, its goal is to be a little bit of everything!
Does Morning Complete Really Work?
The real answer to that question, as it so often is, is "It depends." Different people often have different reactions to the same ingredients! A medication might work perfectly for you and not at all for your friend. This problem is only made worse with supplements, which often don't have as dramatic of effects as medications do.
We can say for sure, though, that several of their ingredients are clinically proven. Green tea leaf extract, for example, has been shown to have some impact on heart disease,[1] and superfoods like kale are famously healthy. Of course, no studies are saying that Morning Complete is effective – no researchers can spend that much time on a single brand – but many of the ingredients are encouraging.
Morning Complete Ingredients
Prebiotic Fiber
Prebiotics are the nutrients that your gut bacteria need most. They help the right bacteria to grow. A balanced microbiome is an important key to health, and the nutrients in this part of Morning Complete help to make that happen.
This mostly consists of organic tapioca fiber. Tapioca is a starch from the cassava root, which looks like a cousin of a potato or yam, but is the root of a tree! It contains a lot of fiber, and it can only be digested by certain kinds of good bacteria, giving them food. The products of this digestion also harm bad bacteria, so the entire system supports your body.
The other ingredient in this blend is cinnamon bark, which is a minor antioxidant, but it appears to be mostly there for flavor.
Green Superfoods Blend
This is a blend of a lot of different greens and vegetables. It contains alfalfa leaf, barley grass, berberine (from the barberry plant), broccoli, kale, mulberry leaf extract, and spinach. Unfortunately, although this blend is the largest component of the product, it may not do all that much.
Take kale, for example. It's rich in a lot of vitamins, especially Vitamin K, with 81% of your daily Vitamin K in one cup. But a cup of kale is 24 grams, and there's less than a single gram of all of these vegetables put together. The blend is, to an extent, concentrated, but there's still not likely enough greens in this to give you much nutrition.
Metabolic Enhancing Blend
The ingredients within this blend are almost all some kind of extract: green tea leaf extract, white tea leaf extract, turmeric root extract, and bitter melon fruit extract. The others are ginger root and black pepper.
Bitter melon seems like the most interesting aspect of this blend. If you've never heard of bitter melon, it's a gourd native to much of the Southern Hemisphere – Africa, the Caribbean, and parts of Asia. It seems to have beneficial effects on obesity,[2] leading to the claim that it increases metabolism.
Turmeric and black pepper are also commonly associated with metabolism and weight loss. Again, though, the current science suggests that all of these ingredients may be effective in larger doses than are included here.
Morning Complete Reviews: What Do Real Users Say?
I'm on my second container of Morning Complete…..I've noticed I have more energy. I actually JUMP out of bed in the morning. Definitely will purchase again!!

Margaret (Morning Complete website)
Flavor is hard to get down. I am not sure what the benefits of drinking this every day is since really there has been no change since I started drinking it weeks ago. Not worth spending the money on every month. Happy only bought a month supply.

Kim (Amazon)

This product works better than any other probiotic I have ever used. I take it with a small amount of orange juice every morning and it does the job. The taste is horrible however the orange juice makes it tolerable. The benefit of the product definitely outweighs the taste.

Nicole W (Amazon)
Alternatives To Morning Complete
Athletic Greens AG1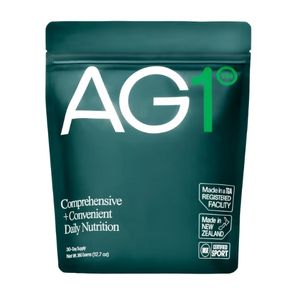 Free of dairy, gluten, corn, peanuts, and much more
Vegan
NSF Certified
60-day guarantee
Ingredients might have too small doses
Not safe for pregnant or breastfeeding women, or children
Bio Complete 3
Clinically formulated
High fiber
90-day guarantee
Made in the USA
Only contains one strain, not several
Expensive
Not very transparent
1MD GutMD
Clinically studied ingredients
Very strong formula
Free shipping and bulk discounts
Health Benefits Of Morning Complete
The main benefit of the Morning Complete supplement is that it helps maintain a healthy digestive system. The digestive system contains billions of microorganisms, which are collectively referred to as your microbiome. But these microorganisms can be either good bacteria or bad bacteria.
A probiotic blend like Morning Complete contains the good bacteria your gut needs. It can be weird to think that you're taking bacteria in a pill, but they're very important for healthy digestion! Morning Complete also has prebiotics, which are things like starch and fiber that these bacteria eat.
Morning Complete also contains some antioxidant blends, like kale and cinnamon bark. It can help you lose weight and improve both skin health and heart health. These claimed results are fairly unproven, though.
Morning Complete Potential Side Effects
A major source of side effects is a small amount of aloe vera. Aloe vera is great on the skin but may not be safe to take orally, especially in large quantities. In small quantities, it can act as a laxative, but large amounts may cause diarrhea and abdominal pain.
Another problem is with a handful of grass products like wheat grass, barley grass, and alfalfa. These plants could be harmful to people with a grass allergy. The results will likely not be life-threatening, but irritation and discomfort could be caused.
Few other side effects are reported from using Morning Complete. The majority of the ingredients are quite safe – ordinary fiber, real vegetables, and other normal things that are already in lots of food you eat.
How To Take Morning Complete?
It's a pretty simple process when it comes to taking Morning Complete. Just take the provided scoop, and mix it into eight ounces of liquid. You can use any liquid, but most people just choose water. The apple cinnamon flavor may go well with apple juice or tea, and the orange flavor would probably be hardly noticeable in orange juice.
Dosage
Morning Complete dosage is one scoop of the size that is provided. This scoop contains four grams of fiber, 735 milligrams (mg) of a combination of concentrated green vegetables, and 100 mg of various antioxidants blend.
Other ingredients include 100 mg of a blend to support sugar balance, including pine bark extract, and 30 mg to support the liver, which includes milk thistle seed extract. No, our reviewers have no idea how they chose these ingredients.
Frustratingly, because of the way they've grouped everything into blends, it's unclear what the dosage of each ingredient is. This is done deliberately, of course, so that no one else can copy the ingredients. But that also means you have no way of knowing how much, for example, tapioca starch this product contains.
Is Morning Complete Safe?
Morning Complete is mostly safe. It can cause digestive symptoms due to the aloe vera ingredients. Watch for those ingredients if you choose to take this supplement, and if you notice them, stop immediately. Don't take Morning Complete with any medicine for constipation – it can increase those effects and cause diarrhea.
Final Thought
We can't wholeheartedly recommend Morning Complete, but it may be worth trying. It seems mostly safe, although you still should pay attention and see if you notice any side effects. Take advantage of the generous return policy if you find you need to.
In the end, the results most people report are fairly small, and the price is higher than many other supplements. You may very well find that the results aren't worth the high price.
Frequently Asked Questions
Who should take Morning Complete?
Anybody can take Morning Complete with a few exceptions. Women who are pregnant and breastfeeding should not, as the results are not studied. Children shouldn't take it either. Lastly, if you have a known grass allergy, you should consider a different supplement.
Is Morning Complete vegan?
Yes, Morning Complete is vegan. It's also gluten-free. The vegetable ingredients should be safe for most special dietary concerns. 
Does Morning Complete work?
Morning Complete will work for some people but not for everyone. Each person's body is different and responds to the same supplements in slightly different ways. You would need to try it and decide for yourself if it works for you.
+ 2 Sources
EHproject has strict sourcing guidelines and relies on peer-reviewed studies, academic research institutions, and medical associations. We work mostly with peer-reviewed studies to ensure accurate information. We avoid using tertiary references. You can learn more about how we ensure our content is accurate and current by reading our editorial policy.
NCCIH. (2020). Green Tea. [online] Available at: https://www.nccih.nih.gov/health/green-tea.

Muhammad Ashraful Alam, Uddin, R., Subhan, N., Rahman, M., Jain, P. and Hasan Mahmud Reza (2015). Beneficial Role of Bitter Melon Supplementation in Obesity and Related Complications in Metabolic Syndrome. Journal of Lipids, [online] 2015, pp.1–18. doi:https://doi.org/10.1155/2015/496169.